Welcome. My name is Derek. I am the founder, writer, editor, and everything else involved with thewealthybum.com.
I have been involved with making money online for close to 5 years. I started out just making extra money to help supplement my income, and eventually turned it into a full time career.
How I Started
I spent many years working in the restaurant industry, and was at one time an Executive Chef in a high end restaurant. Although working in a kitchen can have its upsides, its not as glamorous as the cooking shows on TV would have you believe.
So after 8 years of spending my days in a hot kitchen I ventured out looking for something new.
With no clear path in mind, I decided to go back to school.
Still having to pay the bills and support a family, I took a 3rd shift job driving a forklift. So during the day I was attending classes, and at night I was working in a warehouse. In between it all trying to squeeze in sleep anywhere I could.
After a couple years of this I realized I could no longer keep it up. Since school wasn't paying the bills I decided to take time off, and just focus on my 3rd shift job for the time being.
So often in life we have plans for the future, but due to circumstance are never able to fulfill them.
Thats the position I found myself in working in that 3rd shift job.
Due to finances I was stuck working a job that was initially supposed to be temporary.
I was too tired to enjoy time with my 2 children.
I had family out of state that I was rarely ever able to take time off work to see.
Basically my life revolved around working and sleeping. I needed a way out.
I started researching ways to not just make money online, but earn an income online. I wanted to work for myself and only myself.
My goals were:
Make enough money to live comfortably
Have the freedom to travel
Be able to spend time with my family and provide them with the life they deserve
After spending countless hours researching ways to make money online, I found that tons of people were earning 'passive income' through affiliate websites.
If you don't know what 'passive income' is, its income that you earn, potentially 24/7. While your in the shower, while your sleeping, on vacation, doing the things you enjoy… you get the point. Its money you earn while you aren't even working.
What affiliate marketers do is create a website, choose a product or service to promote, and earn commission for every sale that is made through their website.
I knew that is what I wanted to do. Problem was I had no idea how to become an 'affiliate marketer' or how to create an affiliate website.
After more research, and some trial and error on my part, I came across the website wealthyaffiliate.com. It is a website filled with experienced affiliate marketers, and inexperienced affiliate marketers all there for one common goal; To make money online and provide guidance and help people (like me) create and run a successful affiliate website.
I won't get into much detail about Wealthy Affiliate now. You can read my breakdown of it HERE.
So after spending time inside wealthy affiliate I learned to create, and run my very own profitable website. It took some time and initial hard work to see results, but once I did it snowballed from there.
I'm now able to live the lifestyle that I spent most of my life only dreaming about. I have the freedom to enjoy time with my family, and the ability to travel when I want to.
I remember thinking that being successful and financially free was something that happened to other people. Something that just wasn't in the cards for me.
Well, If you are thinking the same thing right now, I'm here to tell you it can happen to you if your willing to put the effort in. It is something obtainable by everyone. I did it, and I'm no different than you.
---
thewealthybum.com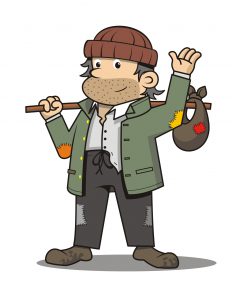 Thewealthybum.com exists to show people like you how to earn an income online.
I'll show you the tools I used to help me become a successful internet marketer. I'll even point out some of the mistakes I made along the way.
If you haven't noticed already, thewealthybum.com not only provides information on how to be a successful affiliate marketer, but is in fact a affiliate website itself. If my visitors click on one of the links I provide on the website, and make a purchase, I earn a commission for the reference.
I only recommend products and tools that I myself have used and believe in. I won't recommend scam products or products that I know nothing about just to make a quick buck. Thats not at all what I stand for, and not how I run my websites. I want to provide useful, honest information to all my visitors, first and foremost. I have received an exponential amount of help getting to where I am today, and I like to think of this as an opportunity to pay it forward and help others achieve success.
Cheers
Derek
Founder of thewealthybum.com