Making money online.
Work from home.
Online business.
Nigerian Prince??
When most people hear these words they automatically think, "Scam!"
If I'm being honest, I do too. ??‍♂️
The truth is, online scams are more common than legitimate making money opportunities. Thats why when I find a program that works for me, I get excited. I want to share the news with everyone.
So that's what I am going to be doing with this review. I'm going to give you a quick overview of what Wealthy Affiliate is and share my personal experience with this free program.

What you will find in this Wealthy Affiliate review:
What is Wealthy Affiliate?
What can Wealthy Affiliate do for you?
How do you make money with Wealthy Affiliate?
How much money can you make with Wealthy Affiliate?
What types of products or services can you promote (sell)?
What will you find inside Wealthy Affiliate?
My personal experience 
The official website is here:  wealthyaffiliate.com
---
So What Is Wealthy Affiliate?
Wealthy Affiliate (WA) is a online community with over 800,000 members. Think of it like Facebook, but at WA the members are there to help each other create successful online businesses.
Wealthy Affiliate is filled with regular motivated people like you and me who have a desire to work for themselves and earn income online.
Some of the members are highly successful, and some are just starting out. You'll find all types of people inside Wealthy Affiliate.
---
What can Wealthy Affiliate do for you?
If you're reading this Wealthy Affiliate review, you probably have some interest in learning how to make money or starting your own online business. Thats exactly what Wealthy Affiliate teaches its members.
Aside from the helpful community, WA provides step by step training videos that teach you how to create and set up a successful website.
The videos are very easy to follow along with. You can literally create and set up your own website while the step by step videos are playing. I did!
---
How do you make money with Wealthy Affiliate?
At Wealthy Affiliate they will teach you how to create and run a affiliate website.
An 'affiliate website' is a website that promotes a product or service. If visitors to the website like what they see, click on the link and make a purchase, the owner of the 'affiliate website' earns a commission for referring the visitor.
There is a proven path to success with affiliate marketing. Wealthy Affiliate shows you the path.
---
How much money can you make with Wealthy Affiliate?
This is a common question, and one that I am sure you are wondering. The earning potential at Wealthy Affiliate hinges on how motivated you are to succeed. Some members make a few hundred/monthly, other members make $20,000/monthly.
Your earning potential can be as little or as much as you want it to be depending on how dedicated you are to building your website(s) and succeeding. The harder you work, the more earning potential you have. I asked this question to one of the Wealthy Affiliate owners when I was a new member. His response:
"I have never seen a member fail, who fully immersed themselves into their online business."
Take a look at some success stories that are being shared with the rest of the WA community:


Keep in mind that these are regular people like you and me who are new to making money online. If they can do it, you certainly can as well.
What types of products or services can you promote?
This is up to you.
Lots of affiliate marketers choose products or services to promote that they have a passion for. For example if you have a passion for scuba diving, you can promote scuba diving equipment on your website. If you have a passion for physical fitness, you can promote a weight loss program.
The possibilities are endless.
And it doesn't even have to be a product or service that you are even passionate about. It could be any product or service that has profit and earning potential.
Inside Wealthy Affiliate there is a guide for helping you choose products or services to promote.
---
Do you need to keep an inventory of products?
No. This is one of the best parts of affiliate websites. You promote products or services that you don't even own. All you need to start and run a profitable online business is access to a computer. There are endless companies that offer affiliate programs.
A 'affiliate program' is a program that allows sellers to earn commission by promoting and selling a companies products or services on their website.
For example, a really popular website that offers a affiliate program is amazon.com. Its totally free to set up an affiliate account, and once you do you can begin promoting whatever products you want from the amazon.com website. I have a few websites promoting amazon products. When my affiliate website refers someone to amazon.com and they make a purchase, I earn commission for the sale.
I just used amazon's affiliate program as an example, there are tons of affiliate programs you can use with all types of products and services to promote. You will learn about different programs inside Wealthy Affiliate.
---
What will you find inside Wealthy Affiliate?
Wealthy Affiliate offers 2 membership levels:
Most members start with the free membership. You can stick with the free membership as long as you like. If you decide you want more out of Wealthy Affiliate, you can upgrade to premium whenever you want.
There are a few differences between the 2 membership levels:
I pulled this comparison chart from the Wealthy Affiliate website: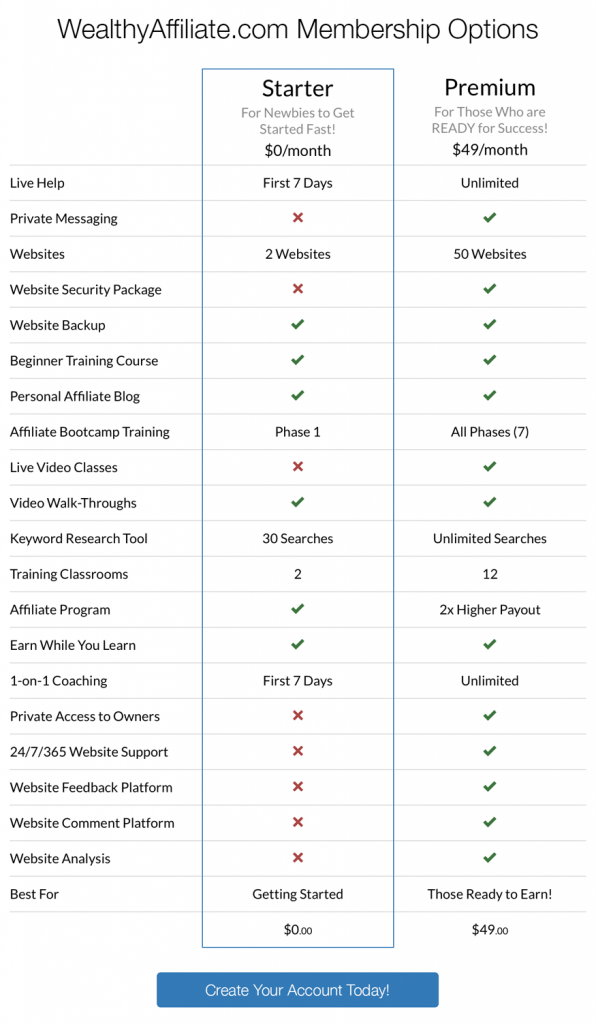 Once you set up your free Wealthy Affiliate account you will be introduced and welcomed by the founders of Wealthy Affiliate, Kyle and Carson. Both Kyle and Carson are very active inside the Wealthy Affiliate community providing help and answering questions.
I have exchanged quite a few personal messages with Kyle, and he always takes the time to provide help and message back. Its pretty refreshing to see the owner of a large website like Wealthy Affiliate care enough about its members to respond to messages.
Once inside, you can click the green Get Started Here button which will take you to the introduction video. The video is narrated by Kyle and will give you a breakdown of the website and what Wealthy Affiliate is all about.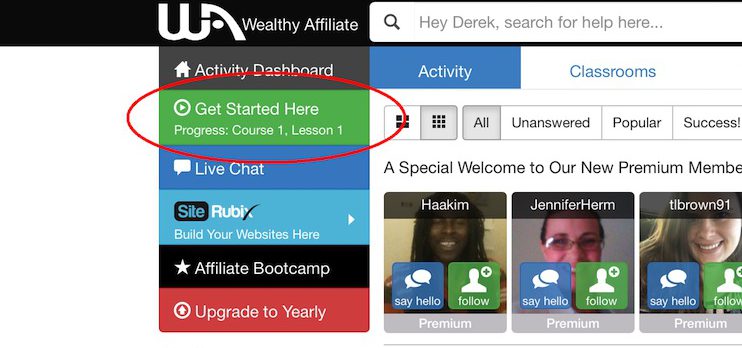 After the introduction, Kyle doesn't waste anytime jumping right into the training videos. The training videos are very easy to follow along with.
Kyle does a great job breaking down the step by step process. You get an over the shoulder look at Kyle create a website from beginning to end. This allows you to follow along and do exactly what he does.
Two FREE websites included with membership
Included with your FREE membership is 2 FREE websites. As a free member, you will receive 2 free websites to name and create. So while your watching the training videos, you can create your free website(s) right along with the training videos.
When adding information to your Wealthy Affiliate profile, they ask 3 questions about your personal financial goals. I really liked this, because it allowed me to really think about what I wanted to get out of my Wealthy Affiliate membership. Its also fun to look back and see what your initial goals were and see how far you have progressed.
What are your goals?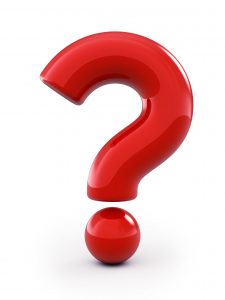 Are you looking for financial freedom?
Are you looking to have more time to spend with family and loved ones?
Would you like to have the freedom to travel?
Are you one of the many who hate their current job and would love to fire your boss?
Or maybe you just want to earn some extra money?
I can confidently say that all of these were my goals when I started out. With Wealthy Affiliate you have the chance to turn those dreams and aspirations into reality.
With the free membership there is no reason why you cant get started on building your future today. You can sign up HERE
---
My Personal Experience With Wealthy Affiliate
There are plenty of Wealthy Affiliate reviews out there, so I want to give you my personal experience and initial impressions of Wealthy Affiliate.
I first came across WA while searching ways to create a business from home. Like most people I absolutely hated my job and wanted nothing more then to start my own business.
After reading a few reviews of Wealthy Affiliate, I decided to give the free membership a try. I figured since they weren't asking for any personal information at sign up I could see what Wealthy Affiliate was all about without being pressured into buying anything.
I honestly didn't have much hope for WA in the beginning. I guess the fact that so many business programs had failed me before, it sort of soured my outlook on the whole start your own online business thing.

After creating my account, I was immediately greeted by the owners Kyle and Carson, and was welcomed with personal messages by about 20 different members inside the Wealthy Affiliate community. It felt good to be welcomed so warmly, and to know I wasn't alone in my journey.
I got to work on my first free website right away. I couldn't help thinking as I was building my first website, that what I was really doing was taking steps toward a successful future.
I quickly saw the benefits of having a community full of fellow affiliate marketers to use at my disposal. Any questions I asked were answered in a few minutes by people who were actually extremely knowledgable on the subject.
The training videos were well put together and easy to follow along with. I remember watching the videos and thinking, "I really have a chance to be successful here."
Its a good feeling when the outlook on your financial future is full of hope.
It was an easy choice for me to upgrade. I don't think a week passed before I decided to upgrade to a premium membership. I wanted everything the community and Wealthy Affiliate had to offer me. I felt that was my best chance at success, and I think I was right.
For me, I see Wealthy Affiliate as an invaluable source of information.
Cons
The only con that I can think of was the feeling of being overwhelmed at first. There is so much information and things to discover at Wealthy Affiliate. I'm the type of person that wants to absorb as much information as quickly as I can.
My advice is to just pace yourself with the training. The training videos are broken into short segments so they are easy to watch and digest what is being discussed.
Kyle actually touches on this in his first video, and does a good job breaking down the Wealthy Affiliate site while putting everything into perspective.
---
One Last Thing
Success will not find you in life, you have to FIND IT!
If you're here on this page you probably have a desire to make money online. Reading this review was a great first step, but now it's time to TAKE ACTION!
Make today the day you start working towards your financial goals, and living the life that you deserve. Head over to Wealthy Affiliate and create your FREE account now!

You can find me inside Wealthy Affiliate pretty much everyday. When I'm not learning inside Wealthy Affiliate, you can find me inside the live chat and doing my best to help other members.
If you sign up through this page, I will be notified of your new membership and you can expect a personal message from me (including a ★FREE★ bonus) inside Wealthy Affiliate.
Once inside, send me a message and introduce yourself.
Also, if you have any questions, just ask, I'm here to help. I want to help you succeed like others have helped me succeed.
See you inside Wealthy Affiliate.
Derek