If your anything like me, you absolutely hate the job industry.
I hate it so much in fact, that I actually do not believe in working. Not work in the conventional sense at least.
Now don't get me wrong, I believe in making money. I just don't want to grind my life away at some job, 40+ hours a week to get it.
Did you know that the average person spends 30% of their life working?
If your one of the MANY (70% of people!!) who hate their current job, or your someone without a job, looking to make money, you may be seeking ways on how to start a business at home.
Its funny, there are so many people that think you have to work your life away, day in and day out, until its time to retire.
Why do they think that?
A lot of people have that mindset because that is the way its always been. They are unaware of the countless ways you can make money using the internet, and still have time to enjoy life.
I used the internet to start a business at home, and in my opinion working for yourself from home is the best job you can have. Period.
Okay, How to Start a Business at Home
With the ever increasing rise of the internet, starting a business at home has never been more achievable. There really are hundreds of ways to leverage the internet for your financial gain. I will go over a couple home based businesses I myself have started using the internet, including my #1 recommended way to start a business at home.
---
Retail Arbitrage
Buy low, sell high. Thats all there is to retail arbitrage. Okay, maybe there is a bit more to it.
The goal with RA is to find something cheap locally and sell online for profit. If getting involved with RA be prepared to do your research.
Some good tools to have:
Amazon price check app – Check to see how much that clearance find is selling for on Amazon.
Ebay app – Same here, check to see how much the item is being sold for on ebay.com.
Most of your arbitraging will be done scouting the clearance or sale item racks. Keep an eye out for 'last season' sale items. Most of your buyers won't know or care if a name brand item is from last season.
Stores to check out:
TJ Maxx/ Marshalls / Home Goods – These stores specialize in 'last season' name brand items. I once bought a bunch of Calvin Klein leather wallets for $15/each and sold them on ebay for $30/each.
Gamestop – Gamestop always has games on sale. Browse their selection while checking prices on your phone.
Toy stores – Toys are always popular. Most Toys R Us stores have entire sections dedicated to sale items. Take a look around and check prices online.
Going out of business – This is an easy one. You'll find huge discounts at going out of business sales.
Walgreens – Pharmacy stores regularly put items on sale to clear out inventory. Things like makeup, toiletries, and personal items are always in demand.
Macy's/ JCPenny / Sears – You will find some great deals on name brand items at retail stores.
Malls – Popular teen stores like A&F, American Eagle etc.. always have clothes on sale.
Another thing to keep in mind. Some of your local stores aren't available to people in other areas. Ikea for example is a very popular store, but is not in a lot of cities. If you can find sale items at these types of stores, demand and profit margins can be higher.
Drop shipping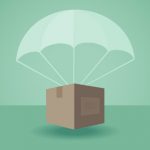 Drop shipping is a business you can start at home with no start up money and no inventory. Drop shipping is a system in which you advertise products that are offered by a distributor of your choice and sell them for more than the distributors price. The price difference is the profit.
There are many distributors to choose from, and many places to advertise the products. A popular distributor that I myself have used is amazon.com. My business involved browsing Amazon products that i felt I could turn a profit on, and listing them on ebay at a slightly increased price, about $5-$10 on average.
When someone on ebay made a purchase, I would head over to the Amazon page, place the order, have it shipped to the ebay buyers address, and make a few dollars profit. Repeat this process 1000 times, and you can see how it would be profitable.
Although drop shipping can prove to be a profitable home business, there are a few things to keep in mind.
Significant profits are achieved only when you hit consistent high volume, which can take some time to reach for new sellers.
There is lots of competition with many items. Take your time and try to find products that don't have a lot of competing sellers advertising the same product.
Some distributors charge fees for using their services. If drop shipping is a business you are interested in trying out I recommend Amazon as a distributor to start because its completely free to use.
If you intend to use ebay as your platform for selling products, remember ebay and paypal charge fees for anything you sell. Use THIS fee calculator or one similar before pricing your items to offset these fees.
---
Affiliate Marketing

Affiliate marketing is my current source of income, and the home based business model I recommend. Affiliate marketing is where you promote other people's products or services, and earn a commission if a sale is made through your marketing efforts. The concept is pretty simple.
What do you need to get started?
All you need to get into affiliate marketing is a website to promote your selected product or service. Don't worry, websites are easy to create. Siterubix.com has a website creator that is easy to use, and best of all its FREE! If you dont go with the free website from Siterubix.com, most websites cost around $15/yearly. Pretty cheap.
The first step to affiliate marketing is choosing a product or service that you want to promote. This is the fun part of affiliate marketing, because your product or service can be anything you want it to be. You can choose a product or service that you are passionate about, or you can choose something that you think has good money making potential.
My first affiliate website promoted mattresses. I thought this was a good product to promote because I'm passionate about sleep, and the profit potential seemed good because everyone needs a mattress, right?
Amazon has an affiliate program. They will pay you commission for any sales that result from your websites marketing efforts. Amazon is a good website to promote products for because they have anything you can think of. I sometimes just browse amazon looking for ideas to build an affiliate website around. There are a lot of companies that have affiliate programs. Amazon is just one of them.
When I was getting started with affiliate marketing I had lots of questions. Naturally when your new to something your going to need help from time to time. Lucky for me I found Wealthy Affiliate. Its an online community, sort of like Facebook, but all the members are affiliate marketers. Its great because any questions you ask, will be answered by people who know what they are talking about and have been there before. There are also training videos where you will learn how to create and set up your website. Best of all membership is FREE.
I highly recommend Wealthy Affiliate if your interested in starting a business at home with affiliate marketing.
Learn more with my Wealthy Affiliate review