Anthony Morrison brings us his program called Success With Anthony.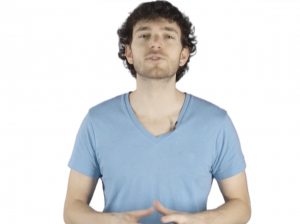 Here is Anthony in a interview on CNN ↓
If you're here, you must have heard of Success With Anthony, and are curious if this making money program can help you?
Well I was curious about the program as well, so I did a bit of research on it to find out if it actually can help people like you and me make some money, or if it's just a scam.
I'll save you the suspense, and tell you that I was not very impressed with the program. The member reviews that I came across also didn't help improve my opinion either.
Check out my full review down below, including an alternative program that I do recommend.
In a nutshell, what is Success With Anthony?
Success With Anthony is a online training course that is intended to teach you how to make money online with internet marketing.
Through Anthony's course, you will have access to his training on how to profit with internet marketing by taking advantage of these proven internet marketing methods:
Email Marketing
Social Media Marketing
Search Engine Optimization
Email Marketing
Anthony offers training on how to build a email list that you will be able to consistently promote products to, potentially earning you commissions when sales are made.
Social Media Marketing
Success With Anthony offers training on how to take advantage of and profit from the popularity of Social Media.
Search Engine Optimization (SEO)
The course also offers training on how to increase your websites ranking and visibility with his SEO techniques.
What I don't like about the program
When it comes to Success With Anthony, there is nothing that really stands out about the program that makes me want to say its worth buying.
Its really just a mediocre training program, that can cost you an above average amount of money to buy.
Sure, some of the training is helpful to people looking to get started with internet marketing, but its nothing stellar and can be found elsewhere for free.
Success With Anthony price
This is one of the aspects of the program that is a total turn off for me, the pricing.
Initially you will be quoted the price of $49, which is a pretty fair price in my opinion. But unfortunately you will quickly see that this pricing is very misleading. There are plenty of up-sells involved with the program, and you will need to shell out additional money if you intend to take advantage of everything the program offers.
I have read countless member reviews of people spending $200+ dollars on the program after joining.
Banned from Clickbank due to high refund rate 
If you don't know what Clickbank is, it's a website that offers digital products and services to internet marketers for them to promote.
Success With Anthony used to be one of the products that Clickbank offered on their website, but was actually removed from their inventory because the refund rate was so high.
If people are requesting refunds for a making money program that they purchased, that tells me one thing. The program isn't making them money.
My thoughts on the program
If you are interested in making money online, I recommend you do not waste your time with Anthony's program.
The internet is a great source of information, and when it comes to uncovering the truth behind making money programs it proves invaluable.
Nowadays if a making money program doesn't live up to its hype, the truth will quickly be revealed with a quick Google search. It hasn't stopped scammers from trying to scam people, but it has made it easier for us consumers to make a more educated decision when it comes to investing in making money programs.
Check out this alternative instead
If the idea of internet marketing appeals to you, check out Wealthy Affiliate instead.
Internet marketing is a great way to make money online. Its actually how I make money using the internet.
I got started with internet marketing when I found the online training program called Wealthy Affiliate.
Before you read any further, I want you to do a Google search of Wealthy Affiliate. Don't worry I'll wait…
Notice Anything?
There aren't any negative reviews of the program. Why's that? Well the answer is pretty simple. Wealthy Affiliate works.
I was a complete newbie to interent marketing when I found Wealthy Affiliate (WA). That didn't stop me from taking what I was learning from WA, and creating a full-time internet based business.
One of the great things about WA is that you can get started for free.
Although you gain access to the program for free, you get some pretty awesome benefits with this free membership:
free training
2 free websites
access to the full Wealthy Affiliate community (live help from other members)
If you like what you see with the free membership, you have the option to upgrade to a paying membership ($49/monthly). Or you can stick with the free membership for as long as you like.
I personally upgraded to a premium membership and haven't looked back since, if that tells you anything.
The choice is yours though. I recommend you at least give the free membership a try and see if its something you are interested in.
If you want to learn more, check out my full review of Wealthy Affiliate.
Thanks for stopping by to check out my Success With Anthony Review. I hope I helped you make an informed decision. If you have a personal experience with the program, I would like to hear about it in the comments below ↓
Cheers,
Derek