Survey websites are on the rise. More and more people are interested in taking surveys than ever before.
With the rise of survey websites, the rise of SCAM survey websites has risen too.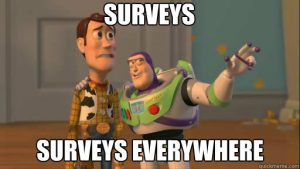 If you are here, I'm sure you have heard of the survey website called iPoll.
I recently discovered iPoll and decided to do a little investigation into the program and find out if iPoll is a scam, or if its one of the good guys.
So I set up a free iPoll account and gave the program 3 days of my life.
Read on for my full review, including why my account got terminated.
So, What is iPoll all about?
iPoll is a survey website owned by SSI LLC. SSI collects information and data for companies (surveys) and they need people like you to complete these surveys.
So basically:
Company A hires SSI to obtain information from consumers (you).
iPoll awards points for completing surveys which can be redeemed for cash, or gift cards.
The minimum balance needed to cash out is $50. So if you intend to give iPoll a shot, make sure you stick with it up to that $50 mark, or you won't be able to cash out and your time spent surveying will have been for naught.
Making money with iPoll
I received $.50 in my iPoll account just for signing up.
Most of iPoll's surveys pay between $.25 up to $3.00. The longer a survey is expected to take, the more it pays.
Some of the surveys on iPoll are designated for people within very specific demographics. So if you find yourself not meeting the criteria for a specific survey, its because they are seeking the opinion of someone from a different demographic.
This can actually lead to a lot of frustration. In order for them to determine your eligibility you must go through a series of questions. If they decide at any point that you aren't within the demographic they are looking for you will be dropped from that particular survey. No money earned.
I read that some people spend almost 30 minutes on a survey only to get dropped from it without warning. Talk about a waste of time.
I myself got denied from a few surveys and was notified that they had no additional surveys for me.

I did manage to complete a few surveys and earned $.75 in my iPoll account. Both of the surveys took me about 15-20 minutes each to complete. Not the greatest hourly wage ever, but thats to be expected.
My problem with iPoll
No more surveys?
I was on iPoll for about 3 days. Each and every day I ran out of surveys to complete. I could see how this would be very frustrating for someone trying to make some real money with the program.
Account terminated?
After the 3rd day I tried to log into my iPoll account. I was presented with this message:

Uh, okay. Apparently I violated the iPoll terms and conditions at some point?
So what about the money that I had in my iPoll account? It wasn't much, but God forbid I had accrued a decent account balance and this happened. Bye Bye money & time spent.
Geez, you'd think they would email me a warning or something.
Common iPoll complaints
I didn't have a very positive iPoll experience obviously. Apparently I'm not the only one. Lets see what some of the more common iPoll complaints are:
Where the hell is my account?
So I'm not the only one this has happened to. Apparently there are lots of people who's accounts were terminated without warning. This one guy said he spent 3 months trying to get to his first $50 payout, only to have his account terminated for violating a mystery term and/or condition. Poor guy. I set up a Gofundme page on his behalf ?
How long is this going to take?
There are quite a few complaints of payouts taking an exorbitant amount of time to receive. Some users saying up to and even exceeding 4 weeks! Yikes, what's the hold up?
Your points have an expiration date
For some reason they put an expiration date on your points (why,will they get moldy?). Meaning if you don't cash out, (or can't yet) your points will disappear faster then a toupee in a hurricane.
What do you mean I don't qualify, I just took the survey?!
People apparently don't enjoy getting pre-screened for 30 minutes, only to find out they don't qualify, and will receive no compensation for their time spent.
Not what it used to be
I read a few complaints from people who have noticed a steady decline in available surveys, and the amount of money you can make with the program. Apparently iPoll isn't quite what it used to be.
iPoll's help desk remains silent
Looking for help, or wondering why your account was terminated. Don't expect a response from iPoll's customer service desk. I myself emailed them wondering why my account was terminated. No response yet. I'll update this post if they ever get back to me.
Is iPoll a scam?
We went over some pretty crappy complaints about iPoll, but at the end of the day iPoll isn't a scam. Its just a crappy program, that isn't run very well.
Some people do make money with iPoll, but its a risky and time consuming venture.
Based on my experience, I would never try iPoll again. Simply because I wouldn't risk losing the money in my account again.
My recommendation
I'm honestly not a huge fan of survey websites. They are enormously time consuming and they simply don't pay that well (if they pay at all).
I used to take surveys for extra cash before I found a program that taught me how to make a real income online.
If your interested in making a few extra bucks, go ahead check out iPoll and see what they can do for you.
If your interested in making a full time income online, check out my #1 Recommended work from home program. Its FREE!